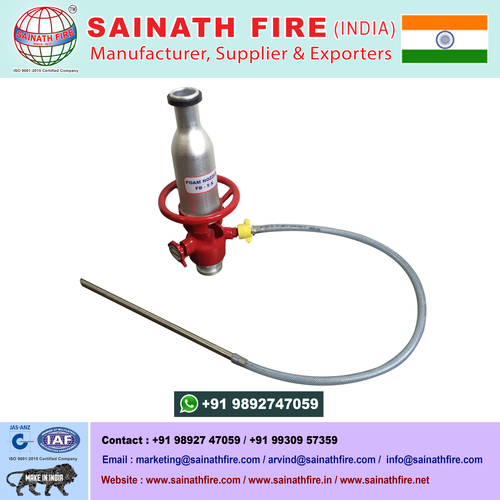 FB5X Foam Making Branch Pipe
Product Description
FB5X Foam Making Branch Pipe

FB5X FOAM MAKING BRANCH PIPE 225 LPM, ALUMINIUM Specification Data Model Foam Making Branch Pipe FB 5X (225 lpm @ 5.5 kgf/cm2) Inlet 63mm Instantenous Male Inlet Outlet Foam Discharge Pipe Material of Construction Aluminium Reference IS: 2097 Pipe Aluminium IS:7882 Inlet body Aluminium Gr. 4450 IS:617 Holding Ring Aluminium Gr. 4450 IS:617 Inlet Male Instantaneous Aluminium Gr. 4450 IS:617 Dimensional check As per IS:2097 (See Drawing Below)Performance Requirements Flow: 225-250 lpm at 5.5 kg/cm2, Range 15 Mtrs (min) Foam expansion 1:8 (min).Documentation Internal inspection report, supplier's certificates, approved laboratory test certificates Working pressure5 to 8 Kgf/cm2Length (Approx)455 mm Weight (Approx.)3.2 Kgs.Branch Painted - Fire Red Color as per IS: 5 Shade No. 536FB5X FOAM MAKING BRANCH PIPE225 LPM, ALUMINIUM Specification Data Model Foam Making Branch Pipe FB 5X (225 lpm @ 5.5 kgf/cm2)Inlet63mm Instantenous Male Inlet Outlet Foam Discharge Pipe Material of Construction Aluminium Reference IS: 2097PipeAluminium IS:7882Inlet body Aluminium Gr. 4450 IS:617Holding Ring Aluminium Gr. 4450 IS:617Inlet Male Instantaneous Aluminium Gr. 4450 IS:617Dimensional checkAs per IS:2097 (See Drawing Below)Performance Requirements Flow: 225-250 lpm at 5.5 kg/cm2, Range 15 Mtrs (min) Foam expansion 1:8 (min).Documentation Internal inspection report, supplier's certificates, approved laboratory test certificates Working pressure5 to 8 Kgf/cm2Length (Approx)455 mm Weight (Approx.)3.2 Kgs.Branch Painted - Fire Red Color as per IS: 5 Shade No. 536
FB5X FOAM MAKING BRANCH PIPE
225 LPM, ALUMINIUM

Specification Data

Model
Foam Making Branch Pipe FB 5X (225 lpm @ 5.5 kgf/cm2)
Inlet
63mm Instantenous Male Inlet
Outlet
Foam Discharge Pipe
Material of Construction
Aluminium
Reference
IS: 2097
Pipe
Aluminium IS:7882
Inlet body
Aluminium Gr. 4450 IS:617
Holding Ring
Aluminium Gr. 4450 IS:617
Inlet Male Instantaneous
Aluminium Gr. 4450 IS:617
Dimensional check
As per IS:2097 (See Drawing Below)
Performance Requirements
Flow: 225-250 lpm at 5.5 kg/cm2, Range 15 Mtrs (min) Foam
expansion 1:8 (min).
Documentation
Internal inspection report, supplier's certificates, approved
laboratory test certificates
Working pressure
5 to 8 Kgf/cm2
Length (Approx)
455 mm
Weight (Approx.)
3.2 Kgs.
Branch
Painted - Fire Red Color as per IS: 5 Shade No. 536
Features:
All Type And All Size
High Grade Quality Manufacturing
100 % Quality Products
Make In India
We are attaining trust from a huge client base that relies on our offered FB5X Foam Making Branch Pipe.Widely trusted as the precisely designed automatic control valves, the offered models are best suited for protecting fire protection systems from air lock. We are designed these valves in variety of configurations and end connections. Further, the offered valve is made from Aluminium Alloyand can be ordered at a leading price.
Contact Us
6/G, Roop Indl., Estate, Opp.Telephone Exchange, Safed Pool, Sakinaka, Andheri (E),, Mumbai, Maharashtra, 400072, India
Phone :+918037405242